As a WordPress user, while creating content for your website, an important issue to consider is preventing the text from being copied. While there are various copyright protection tools available for text-based content, it's important to be aware of the options available to you in order to best protect your content from being copied without permission. Here we'll discuss various methods that you can use to prevent text from getting copied in WordPress using The Nexter theme Content Protection.
To check the complete feature overview documentation of Content Protection feature, click here.
Requirement – This is a feature of Nexter Theme, make sure its installed & activated to enjoy all its powers.
Following the below Steps:
To do this go to Appearance > Nexter Settings > Security.
Then click Settings on Content Protection (Right Click Disable).
In the popup check the checkboxes for –
Disable Right Click – Using the right click users can copy text, download images and videos, save the entire page as HTML, can print the page, can view the source code etc.
Disable Developer Tools Hot Keys – Developer tools can be used to copy the content as well.
Disable F12 – It is a shortcut key for Developer tools.
Disable Drag/Drop – Users can easily drag and drop images from your website to their local pc.
Disable Ctrl+C/CMD+C – Users can directly use the copy hotkey to copy content from your website.
Disable Ctrl+U/CMD+U – This is a shortcut key to view page source code users can easily use that to copy the content.
Then click on the Save button.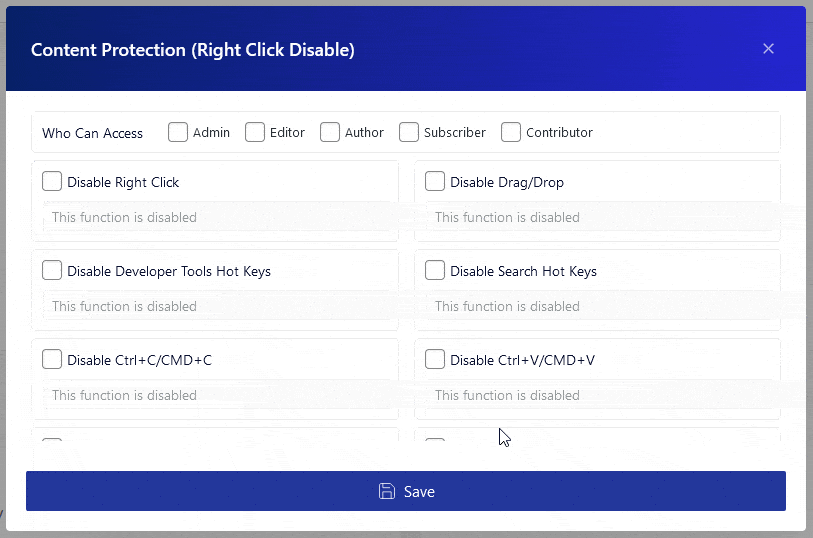 Also, check How to Stop Drag and Drop on WordPress Website.