If you're running a WordPress blog or website, you know that the WordPress admin toolbar is a great feature that helps you manage your content quickly and easily. However, at times you may want to hide the WordPress admin bar from the front end especially if you're running a membership or an online store where many users can log in to access the site.
In such scenarios disabling the admin toolbar is the best option as it can be distracting for the users in the front end and at times it can affect the site design as well. WordPress has the option in the backend to disable the admin bar for individual users but if you have hundreds of users this can be a lot of work.
Using our Nexter theme, you can easily remove the WordPress admin bar in the frontend for all users without any additional plugins or writing any PHP code.
Disable Admin Settings
Requirement – This is a feature of Nexter Theme, make sure its installed & activated to enjoy all its powers.
With the combination of the Nexter theme and the Nexter Extension (free) plugin you can control many admin panel settings of your WordPress dashboard, one such option is hiding the admin toolbar.
To hide the WordPress admin bar, go to Appearance > Nexter Settings > Extra Options.
Then scroll down to the Disable Admin Settings section and click on the Enable button.
On clicking the Enable button it will show a Gear icon (⚙) click on that.
It will open the Disable Admin Settings popup, here you'll find various admin panel related settings.
To hide the admin bar from the front end go to the Hide Frontend Admin Bar section and turn on the toggle, then click on the Save button.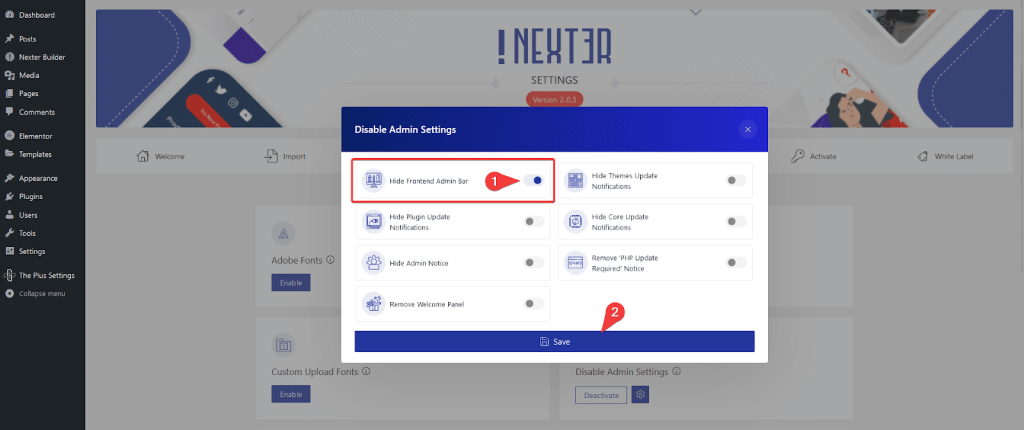 With that, the WordPress admin toolbar has been disabled for all users, now if you go to the front end of your website you won't see the admin bar at the top of your site.