RSS feeds are designed to make it easy for you to share content from your WordPress blog. However, with time the usage of RSS feed has been reduced considerably, mainly because of Social Media.
Most business has some kind of presence on Social Media platforms, and this allows them to share content in a more engaging way. So you might consider disabling the RSS Feed for your website.
Requirement – This is a feature of Nexter Theme, make sure its installed & activated to enjoy all its powers.
Unfortunately, there are no built-in options within WordPress to disable the RSS Feed. For this, you have to use third party plugins or custom coding, but if you are using the Nexter theme and Nexter Extension (Free) plugin, you can easily disable RSS Feed on your WordPress website.
What is RSS Feed WordPress?
RSS stands for "Really Simple Syndication", and it is a type of web feed that allows users to access and subscribe to updates on websites without needing to continuously check in. In WordPress, RSS feeds enable content creators to syndicate their content across the internet, making it more visible and accessible to potential viewers.
Why Disable RSS Feed?
While RSS Feed does have its benefits but at times, you might consider disabling it.
RSS Feed used to be a very popular feature in the past, but with the rise of Social Media, website owners aren't using them that much. So it is good to disable something that is not being used.
If you are making a static website in WordPress with no blog, then turning off RSS Fed makes sense.
While the RSS Feed is a good feature for indexing your content in Google but it can also hurt your ranking by indexing some unnecessary feeds. This is why you might consider turning off RSS Feed.
How to Disable RSS Feed with the Nexter theme?
To disable RSS Feed with the Nexter theme, from the WordPress dashboard and go to Appearance > Nexter Settings > Performance.
Then go to the Advance Performance section and click the Settings button.
It will open the Advance Performance popup, go to the Disable RSS Feeds section and turn on the toggle. This will turn off the RSS Feed on your site.
Now in order to remove the RSS Feed code from your site, turn on the Remove RSS Feed Links toggle.
Then click on the Save button.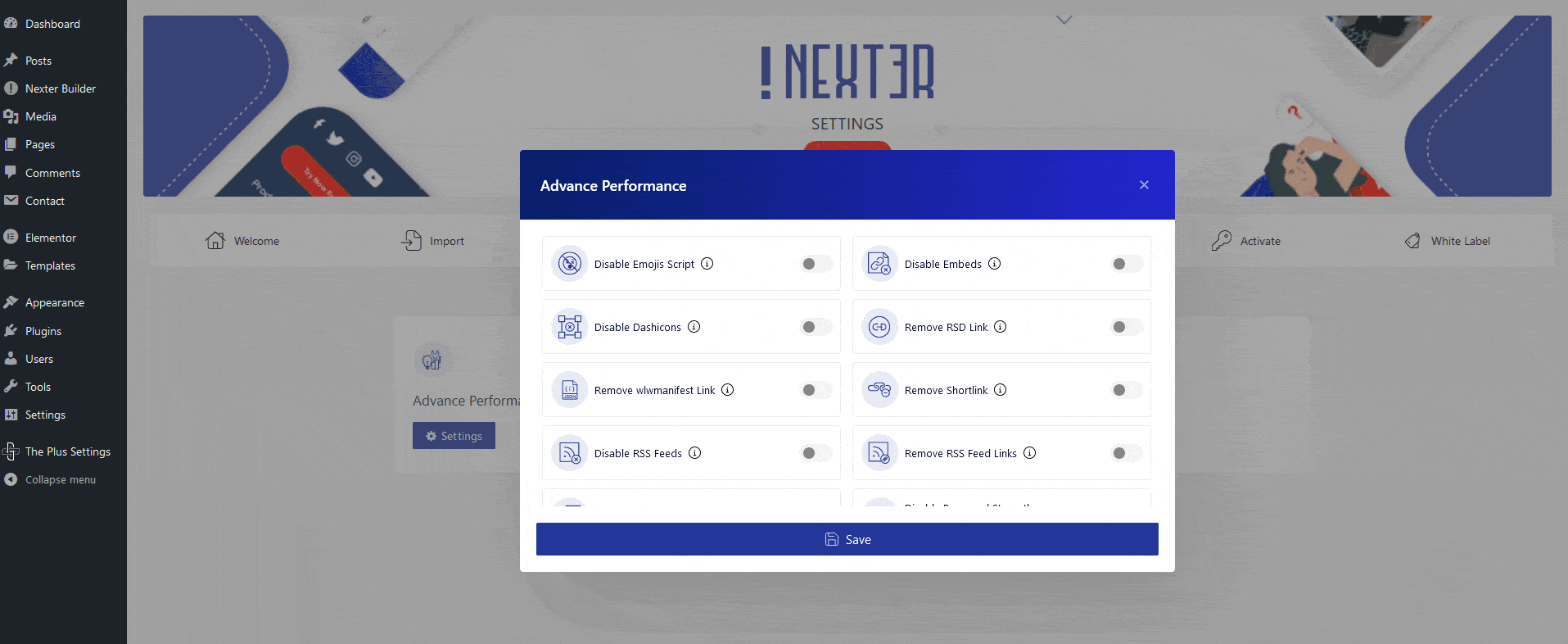 This is how simply you can disable RSS Feed from your WordPress website without any extra plugin or custom code.